Beacon Church began meeting in the cafeteria of Wickford Middle School in North Kingstown in September  2002.  We are grateful for God's blessing of having a place to meet when we first started out!  We met there until August 2006.
Where we stayed for 6 years . . .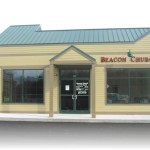 We moved to the Exeter Oak Harbour Village shopping center in  October 2006.  We are very thankful for the nice facility God provided for us during that time!  Our last service there was July 29, 2012.
Where we are now . . .
God has blessed us with a beautiful building.  We are so thankful for all the people who have prayed for, supported us, and helped us during the construction from July 2011 to July 2012.  Many volunteer hours went into this project!  Come visit us at  100 Exeter Road, close to Rt. 2, in Exeter.   We are very thankful to be a part of the Northeast Association of the National Association of Free Will Baptist Churches.